Ebony Townsend, 11, adjust her crown, as she plays the part of Queen Tiye, King Tut's mother.
PRESS PHOTO Lance Wynn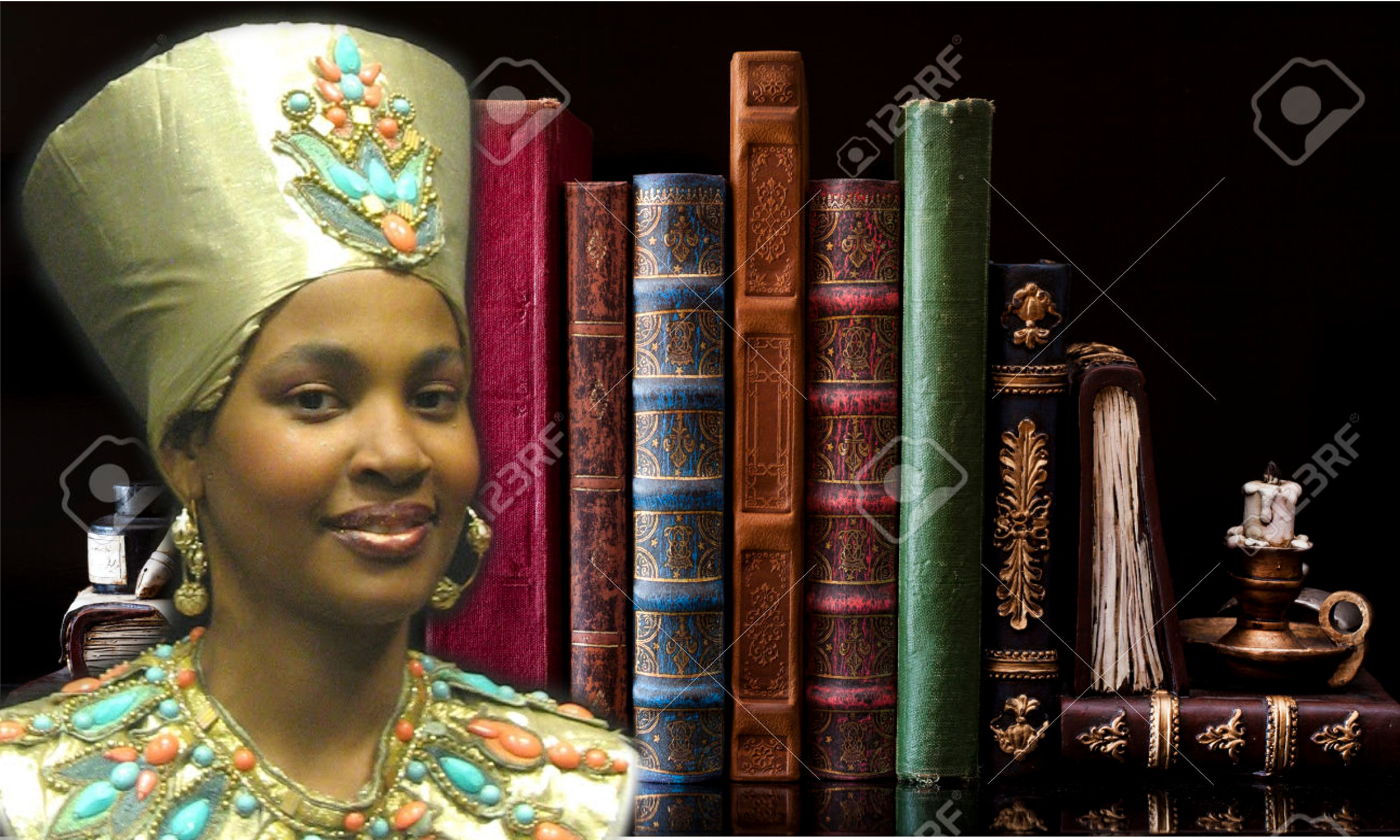 Pharaoh for a Day
Students dress the part as they study Egyptian royalty
By Lisa Todorovich, Grand Rapids Press
At first, Endia Moore didn't want to be an Egyptian queen. She dragged her feet as she walked to the front of the Aberdeen Elementary School gymnasium. Her head bowed as she listened to 150 or so classmates giggle at the mention of her being crowned Queen Hatshepsut, the greatest female Pharaoh of Egypt.
But as she stood draped in a black and gold striped tunic and cape, wearing gold arm bands and gold crown shaped like bird feathers, the 9-year old stood a little taller, held her head a little higher, and listened to Karimah Jahi, of Queens Historical Society of Atlanta, tell the story of how Queen Hatshepsut came to power.
"I was shy at first," Endia said. "But it was fine. I knew a little bit about what she was teaching."
Endia wore those royal robes Tuesday afternoon during a presentation entitle "Egypt: The Glorious 18th Dynasty," a program developed by Queens Historical Society that is scheduled to visit 13 Grand Rapids schools this week.
The Multi-Cultural Education Office of the Grand Rapids Schools brought the program to the area to promote cultural awareness among school children.
"It's presented as a self-concept enhancement program," director Mary Edmonds said. "In 1989 we came up with a new initiative for education that is multi-cultural, gender fair and anti-bias. This (presentation) fits those aims."
Edmonds said she was interested in the program because it presented Egypt as part of Africa, a point which many school books and lessons seem to overlook. Her idea was to show children the accomplishments of African society, offering a positive model of Africa beyond what many kids often see of the continent – "starvation exotic animals and jungle."
Burger King and Alpha Kappa Alpha sorority, an African-American public service organization co-sponsored the event.
"Right now the special programs are the stop-gap until we can restructure the curriculum," Edmonds said. Ultimately she wants to see the contributions of many ethnic groups and women incorporated into the stand curriculum.
But Tuesday, ancient Egypt's past for the fourth-, fifth- and sixth-graders through fashion, dressing three student volunteers from head to toe as 18th Dynasty rulers Queen Hatshepsut, Queen Tiye and Pharaoh Amenhotep III."
"Women had respect and equal rights in the matrilineal society of ancient Egypt," she said. "People didn't mind a woman leader as long as she was qualified."
Jahi chose fifth-grader Ebony Townsend, 11, to be Queen Tiye and sixth-grader Tim Cahill, 12, to be Pharaoh Amenhotep III, the parent s of the famous King Tut. As she draped each of them in sheer black fabric spangled with gold sequins and stars and placed tall crowns symbolizing upper and lower Egypt on their heads, she explained the symbols of each of their costumes.
"Her royal collar represents the solar system and the orbits of the planets, "she said. "This piece of cloth, called a skent, wraps around his waist."
She looked up as the crowd laughed at what looked like a skirt covering Tim's legs.
"In every culture, people don't all wear the same things we do," Jahi said. "We have to understand other cultures and realize that we can learn from them. Just because they're different than we are doesn't mean they aren't as good as us or that they're weird. They're just different."
Jahi said one of her objectives in the presentation is to teach the students to expect not only other cultures, but to respect one another. Each time you feel like laughing, she, told them, applaud instead. You have to encourage each other to be proud of yourselves and to achieve more, she said.
"We want to motivate you to become the great future leaders of the world," she said. "You don't need to become an adult to be a good leader. King Tut was only 9 years old when he became the Pharaoh." "If you treat people with respect, people will treat you with respect."
"We learned more about Africa than we normally do in school," said fifth-grader Shamika Houston, 10. "We've just been studying this just right before this."
"I liked the costumes," Jonywee Hering, 11, said. "I wouldn't mind being a Pharaoh."
"But people would want to kill you if you were a Pharaoh," his friend, Jonathan Rickert, 11 said.
"But I liked (the presentation) because we learned that you can be anything you want, even if you're a kid, like King Tut," Jonywee said.